Arbiter Certification Program
Step up your game! Attend the 10-hour

training session, pass the exam and earn your Certificate.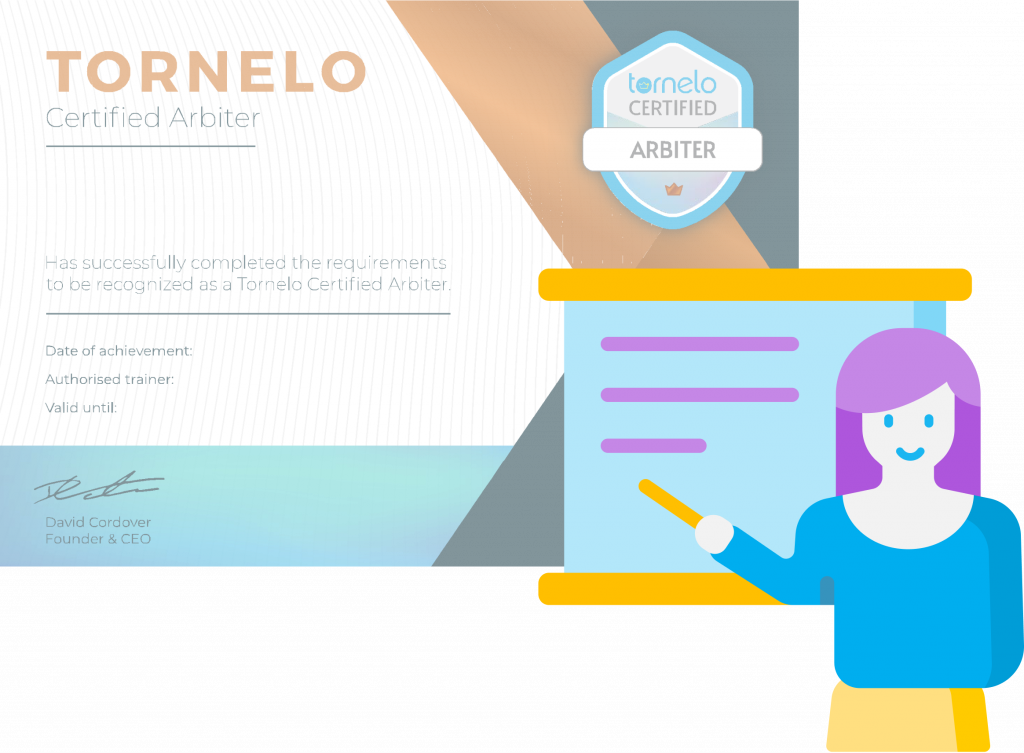 The only official certification program for the Tornelo platform.
Individuals that earn a certification will set themselves apart as uniquely qualified to run events at scale with Tornelo and be able to display the certification logo on resumes and social media profiles.
Certification also confers benefits such as an authorization to provide training and award Tornelo badges, and to verify player identities or organizations.

Be among the first to earn the Tornelo Certified credential and gain recognition for your tournament management skills.
National Federations wanting to run an officially endorsed training seminar may be eligible for up to a 50% discount on fees. Contact us to find out more.
Benefits
Levels
Entitlements
Code of Conduct
Loyalty discount
Tornelo Arbiter Awards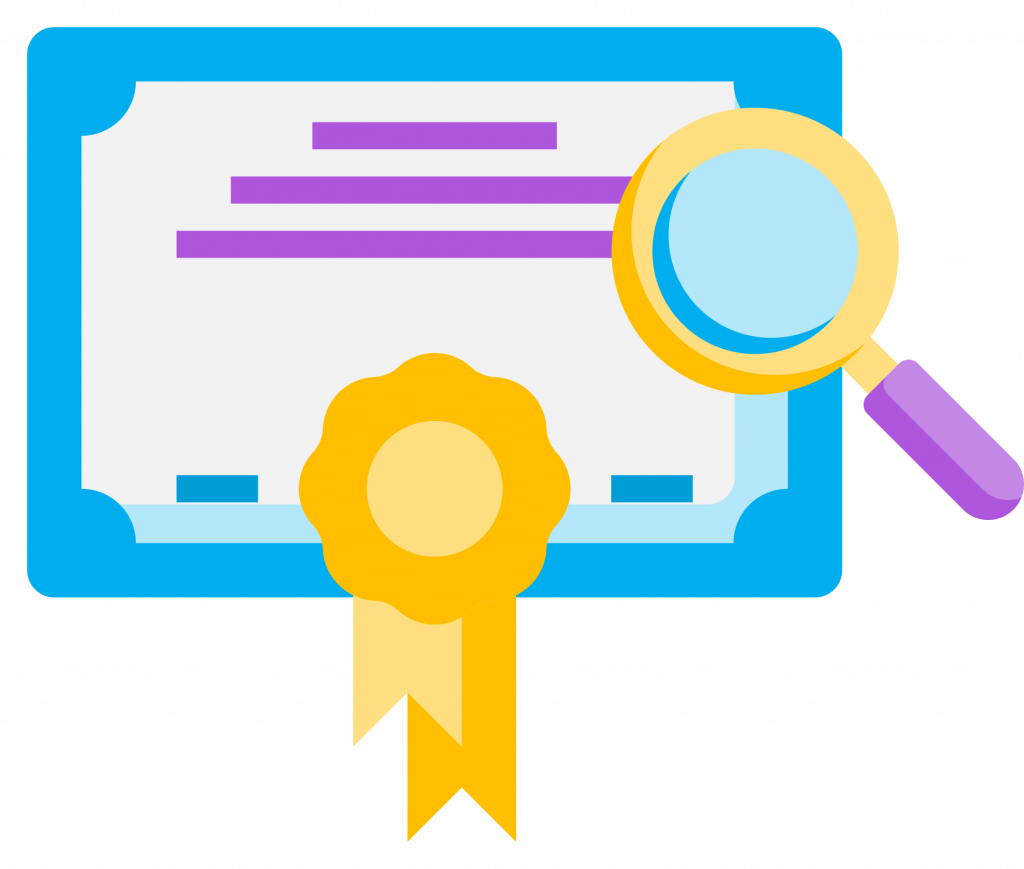 Tornelo Certification gives you:
Skills
Credibility
Confidence
Attain instant credibility with your clients, differentiate yourself from the competition, showcase your expertise, and demonstrate you are on the cutting edge of chess tournament management by earning a Tornelo Certified credential.

Individuals earn their credential by proving they embody the founding principles, have the requisite experience, adhere to the Tornelo Code of Ethics and comprehend the entire body of knowledge required to pass the Certification examination.

Earning a certification shows you are keeping pace with technical roles and requirements and latest best practice thinking surrounding online, hybrid and OTB chess tournament management.

Each of these certifications consists of theoretical and practical training, followed by passing a series of exams to earn certification.
Tornelo issues digital badges for earning certifications or completing training. A Tornelo digital badge is an online representation of an outcome or achievement. It's a secure, shareable credential which represents verifiable evidence that the holder:
Has the required Knowledge
Has demonstrated required Skills
Is Trusted by Tornelo
Acts Professionally at all times
Delivers a high-quality, consistent event experience
Tornelo awards 4 official badges and recognises 3 certifications:
Tornelo Certified Arbiter
Tornelo Certified Professional
Verifies that you understand Tornelo core functionality and that you can configure key settings, perform basic troubleshooting, and support users.
Validates proficiency on the Tornelo platform and foundational event management skills.
Validates advanced, professional capability on the Tornelo platform and excellent event management skills.
Validates comprehensive, expert level capability on the Tornelo platform and exceptional event management skills.
Starting point for individuals interested in running a chess tournament.
Must have an Arbiter or Organizer certification; Tornelo Badge, FIDE, US Chess or any recognized chess federation.
Must be a Tornelo Certified Arbiter

Recommended to have at least one year of hands-on experience using Tornelo

Platform activity requirements may apply.
Must be a Tornelo Certified Professional

Recommended to have at least two years of hands-on experience managing events

Platform activity requirements may apply
– Digital Badge to prove your skills

– PDF Certificate for download

– Recognition on Tornelo
– Digital Badge
– Certificate
– Recognition

– Listed in our Certification Directory
– Rights to train and award the Tornelo Arbiter badge
– Authority to Verify a player's true identity
– Digital Badge
– Certificate
– Recognition
– Training rights
– Player ID verification

– Authority to Verify an Organization as trusted and provide upgraded feature capabilities
– Digital Badge
– Certificate
– Recognition
– Training rights
– Player ID verification
– Verify an Organization

– Access discounted pricing for a Private Dedicated Server
The certificate is a lifetime achievement, but will have an active or inactive status attached. Ongoing practice, professional development or training is required to maintain an active certification. Activity requirements may be updated from time to time.
Authorised Training Partners
Any active Certified Arbiter, Professional or Expert may run training programs. Upon verification, to the satisfaction of the Trainer, that the participant has demonstrated sufficient knowledge of Tornelo, the Trainer may provide each participant with a Tornelo Arbiter badge and certificate.

These training programs may be provided free of charge, or the trainer may charge a fee for the training.

Training programs presented by an appropriately certified individual may be promoted as official Tornelo training programs.
Rights to use Tornelo trademarks
A qualified individual is entitled to display the Certification badge with the textual expression of the credential achieved (e.g. "Tornelo Certified Expert"), in association with the name of the certified person on:
personal business cards;
personal e-mail or letters signatures;
organizational staff sections of web sites;
marketing or sales material;
offers, answers to tenders;
presentations
promotional material for Tornelo Arbiter Training and awarding of the Tornelo Arbiter Badge
The Tornelo identity is a seal of approval and a promise of excellence.

When you are certified in your area of expertise, you also represent Tornelo. By following these guidelines, you reap the benefits of the Tornelo identity and contribute to its strength.

A Tornelo digital badge is an online representation of an outcome or achievement. It's a secure, shareable credential. Tornelo badges adhere to the Open Badges Specification, which is managed by the IMS Global Learning Consortium for recognizing and validating learning.
The Tornelo Community values people, respect, inclusion, collaboration and opportunity – for us as individuals and together as a whole.

Our Code of Conduct guides all interactions, both online and IRL.
Tornelo Certified Professionals Registry
We will maintain, on the Tornelo platform, a registry of Certified users.

Tornelo reserves the right to withdraw access to all benefits and cancel the Certification of any individual that breaches our code of conduct or brings Tornelo or the game of chess into disrepute in any way. All decisions in this matter are final.
When verifying identities I will do what is reasonably required to reach comfortable satisfaction that the player is representing their true self and using their real name, or a commonly accepted variation of their name in a professional context.
When verifying organizations I will do what is reasonably required to reach comfortable satisfaction that the organization is genuine in its intentions and will uphold the Tornelo Code of Conduct.
The ultimate goal for Tornelo is to help everyone, anywhere in the world run better chess events. For this reason Tornelo runs regular free webinars, which are accessible to anyone who is interested to learn.

The webinars Tornelo runs can be divided into 6 main categories. By attending a webinar in each category Arbiters can obtain Webinar Badges. The badge is a confirmation of attendance and a certificate of knowledge of the given topic.

The most interested and loyal Tornelo fans are able to collect all 6 badges. Each Arbiter, who collects all 6 badges is eligible for a 50% loyalty discount for Tornelo Certification Course. This discount is valid for 2 years after the last badge was obtained.

Each scheduled webinar will contain information about which badge can be obtained by attending. Eg.
Professional: Tornelo for FIDE rated Events,…
Intro: Introduction to Tornelo,…
Business: Tornelo for Coaches, for Streamers,…
Ideas: New chess Event formats,..
Fair Play: Ensuring Fair Play, Understanding Fair Play report,…
Privacy: Privacy and security of online Events,…
Each year Tornelo will host an awards ceremony with recognition and prizes in the following popular choice categories:
Arbiter of the Year
Most Active
Young Arbiter of the Year (U25)